City Home Nursing offers different types of nursing services to meet the needs of patients and families living in Thrissur. You can avail excellent healthcare in the comfort of your home with skilled nursing and therapy staff. We provide quality healthcare. We aimed at helping patients gain back their independence through a systematic and compassionate care plan specially devised for each individual patient. Our programs include, newborn baby care, delivery care, patient care, old age care, senior home care, pre and post delivery care and house maids. We provide the best old age care & baby care in thrissur. Best Home nursing in thrissur. Home nursing service in thrissur, Home nursing agency in thrissur.
Popular Procedures Of Our Home Nursing
Nursing is an art as well as a technique involved giving good care and a nurse is caring for a person not just a patient. The development of a healthy mental attitude may be as important to the recovery of the patient as the required physical care.
Patient Care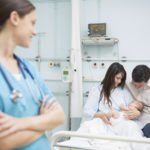 Delivery Care
Baby Care
Old Age Care
House Maids